Back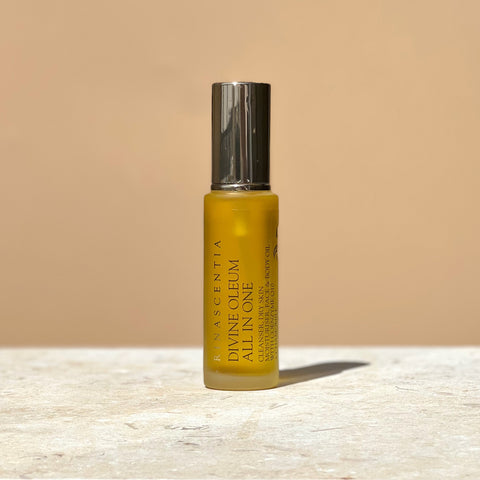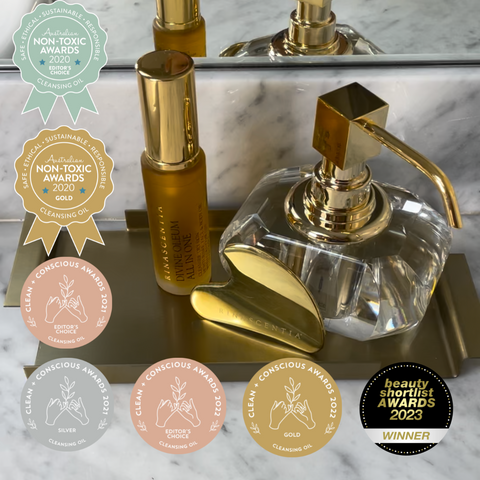 Divine Oleum Face Oil & Cleanser/All in One
Exotic spices transport you to mystical places and energise skin, so your skin feels relaxed soothed and refreshed.
Winner Gold And Editors Choice Awards in the Australian Non Toxic Awards 2020
Winner Silver and Editors Choice Clean and Conscious Awards 2021
A multi-use product, especially suitable to protect against cold, wind and sun exposure.
Free express shipping over $99
Complete the Routine:
WINNER GOLD AND EDITORS CHOICE CLEAN AND CONSCIOUS AWARDS 2022
Take destiny into your own hands, by smoothing, stroking and massaging this elusive elixir into thirsty skin. Let the stirring scent of Vanilla, Cardamom, Star Anise and Cinnamon wash over you with its gentle caress. 
Deeply moisturising organic essential fatty acids glide over the skin providing intense hydration while preserving essential lipids for plump, juicy skin, transporting you to renewed depths. Starring Coenzyme Q10, Beta Carotene, Omega-3, and multivitamin rich, this blend of natural ingredients combine to reinforce the skin barrier. Revealing replenished, energised and visibly luminous skin.  
Fall head over heels for this potent golden elixir of Oscar worthy status. Feel divine and smell delicious with its lingering warming scent. Satisfy your senses, and bring back your glow.
Use Divine Oleum as a luxury cleanser, face oil, makeup remover, body oil, moisturiser, or deep treatment for skin and hair.  Soothe sun kissed skins, easily irritated skin, or as a post-wax treatment. 
Unlike many cleansers, this majestic multitasker never includes surfactants that rob your skin of its natural oils (leaving skin crepey and dehydrated) only our classic formula enriched with the essential fats your skin craves.  
Our Italian method, passed from generation to generation, and refined over the years, leaves no place for fillers or thickeners. Only skin optimising ingredients chosen for quality and efficacy. Our ethos is epitomised in every formula and made with love.
Winner Gold and Editor's Choice Clean and Conscious Awards 2022

Winner Silver and Editor's Choice Clean and Conscious Awards 2021

Winner Gold And Editor's Choice Awards in the Australian Non-Toxic Awards 2020

A multi-use product for face, body, hair

Targeting drying effects for visibly smoother skin 

Radiance restoring moisture

Featuring Ghana Fair Trade Shea Butter and organic ingredients wherever possible
What the Clean And Conscious Awards Expert Panel have to say:

This is such a lovely product to use. It does a great job of removing makeup and sunscreen from the day, while leaving my skin feeling soft and not irritated at all. I also love that this is a multi-use product. I was so happy to read that Rinascentia uses Australian ingredients where possible and even grows some of their own ingredients. I also like that the brand supports charities and uses fair trade products.
–Ash Quinn
I adored the richness of this lovely nourishing oil – I felt as though I could identify each of the beautiful natural oils within the formula. It left the skin really comfortable, hydrated, soothed and glowing. I love the versatility of being able to cleanse with it, but also apply it as a really effective skin serum.
Local manufacture is always a huge positive. It speaks to a brand being able to produce on a responsible scale and have transparency and quality control around their formula and ingredients, which always impresses me.
– Amy Starr
My favourite of the oils, so rich and hydrating with the most beautiful smell. I love the focus on the glass bottle, encouraging repurposing and also allowing us to get every last drop.
Carla-King Turner
This gorgeous golden cinnamon-scented oil beautifully cleanses my skin, easily taking off waterproof mascara. I love doing a second cleanse with the same oil once I've wiped my makeup off with a flannel, as the oils feel so good and absorb so well into my skin, leaving it soft and dewy. Highly recommended.
–Emily Fletcher
COENZYME Q10
Energizes skin cells, increasing the skin's antioxidant capacity and decreasing free radicals.
WALNUT OIL
High in omega 3 to help reinforce and smooth skin's surface. Helps improve hydration and barrier function.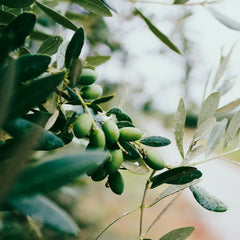 SQUALANE (OLIVE)
High in antioxidants, increases collagen and as a detoxifier helps skin appear more vibrant and healthier.
As a Cleanser and Makeup Remover
Apply on dry skin and massage into face and neck then rinse with a face washer and warm water. Don't forget your hands too!
As a Deep Moisturiser
Apply on damp skin after cleansing at night and day if your skin is dry.
A Hair Treatment
Apply to damp hair. You can leave this on for 30 minutes or a few hours. You can also wrap a damp hot towel to let penetrate deeper.
As a Deep Moisturising Face Mask
Apply a thick layer on its own or a small amount with a teaspoon of Illuminating face mud and apply to face, neck and hands for about 5 – 30 minutes then wash off with warm water and face washer.
BUTYROSPERMUM PARKII (SHEA BUTTER ORGANIC*) GHANA FAIR TRADE SHEA BUTTER, SQUALANE, SIMMONDSIA CHINENSIS (JOJOBA ORGANIC*) SEED OIL, OLEA EUROPAEA (OLIVE) OIL ORGANIC*, JUGLANS REGIA (WALNUT) OIL ORGANIC*, PERSEA GRATISSIMA (AVOCADO) FRUIT OIL ORGANIC*, UBIQUINONE (COENZYME Q10), D-ALPHA-TOCOPHEROL (VITAMIN E), MATRICARIA RECUTITA (CHAMOMILE) FLOWER EXTRACT ORGANIC*, VANILLA PLANIFOLIA FRUIT EXTRACT, ILLICIUM VERUM* (STAR ANISE), CINNAMOMUM ZEYLANICUM BARK* (CINNAMON), AND ELETTARIA CARDAMOMUM* (CARDAMOM) SEED OIL.

* DENOTES ORGANIC INGREDIENTS.